How the surprisingly strong Knicks have given themselves the chance to be picky in future superstar pursuits
New York can take its time and focus on adding the right star

By Sam Quinn
18 hrs ago•8 min read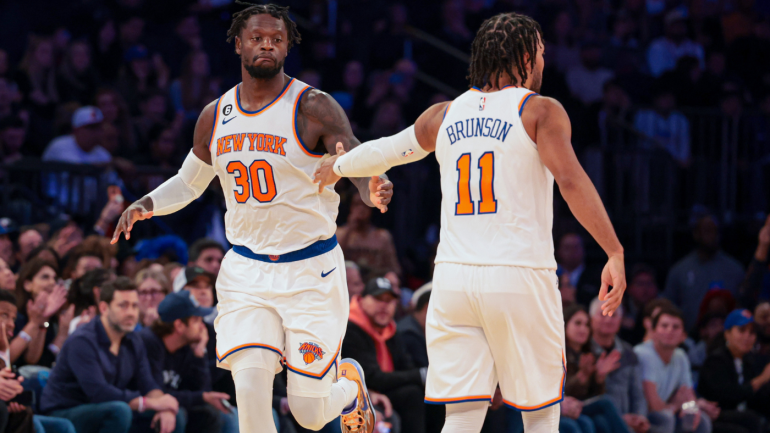 USATSI
Five teams have traded for All-Stars since the beginning of the 2022 offseason: the Atlanta Hawks (Dejounte Murray), Minnesota Timberwolves (Rudy Gobert), Cleveland Cavaliers (Donovan Mitchell), Dallas Mavericks (Kyrie Irving) and Phoenix Suns (Kevin Durant). What do those five teams have in common? Since Dec. 4, all of them have been worse than the New York Knicks.
OK, that might be a bit unfair. Durant has only played three games in Phoenix, after all. But since that mythical date when the Knicks shortened their rotation to nine and committed to their young players, New York has been among the best teams in the NBA. Only the Nuggets, Bucks and 76ers have won more games. Only Denver has a better net rating. The Knicks have the NBA's third-best offense and eighth-best defense since that date.
You've surely heard this story before. After all, weren't we here just two years ago, when a surprising Knicks team earned the No. 4 seed in the Eastern Conference only to get unceremoniously eliminated in the first round before fading back into the lottery? Well, yeah, but this team doesn't have much in common with this one.
The 2021 team won largely through a smoke-and-mirrors defense that ranked fourth in the NBA, but did so on the strength of unsustainable shooting luck. Knicks opponents shot just 34.7% on wide-open 3-pointers that season, the second-lowest figure in the league. This season, they're at 37.6%, which is tied for ninth and largely in line with the league average.
Speaking of unsustainable shooting, much of their 2021 success offensively relied on Julius Randle making jumpers that, to that point in his career, he'd never made. Randle hit 171 mid-range shots that season. In his entire career prior, he'd made 178 in total. The same trend played out in his 3-point shooting: 160 makes on 41.1% shooting in his Most Improved Player season, 168 makes on 29.5% in his entire career beforehand.
Randle is down to more reasonable percentages on his jumper this season, but more importantly, he's relying on better shots. He's cut his mid-range attempts in more than half from 5.8 per game to 2.6 this season, and in exchange, he's added three 3-pointers. Only 16.2% of his shots came within three feet of the rim in 2021. He's up to 21.6% this season. Randle is making better decisions with the ball, and that's not just limited to the shots he's taking. He's also down to just 3.9 turnovers per 100 possessions, the lowest figure he's posted since the 2015-16 season, which was his de-facto rookie year.
Of course, it helps that the entire playmaking burden isn't falling on his shoulders this season. Good shots are easier to come by with Jalen Brunson in town. Since Dec. 4, Brunson has looked like the star the Knicks keep failing to trade for. His numbers since Dec. 4 compare quite favorably to Mitchell's in the same time period.
| | JALEN BRUNSON | DONOVAN MITCHELL |
| --- | --- | --- |
| Points per game | 25.6 | 26.7 |
| Assists per game | 6.1 | 4.7 |
| Field goal % | 48.8 | 46.7 |
| 3-point % | 45 | 35.5 |
This is perhaps the biggest difference between the 2021 and 2023 Knicks. Without Brunson, the 2021 Knicks largely lost the minutes their starters played. Randle, Reggie Bullock, R.J. Barrett, Elfrid Payton and Nerlens Noel was New York's most-used lineup that season at 554 total minutes… and it was outscored by 4.6 points per 100 possessions. Swap in Mitchell Robinson for Noel and the net rating improves to a pedestrian plus-1.9. Their next three most-used lineups, all built around bench sensation Derrick Rose, outscored opponents by at least 14.4 points per 100 possessions. The 2021 Knicks won games with their bench.
But the 2023 team? They win with their starters. Their most-used lineup of Randle, Brunson, Barrett, Robinson and Quentin Grimes outscores opponents by 8.6 points per 100 possessions. Swap Sixth Man of the Year favorite Immanuel Quickley in for Barrett and that figure drops to just plus-7.2. This approach is inherently more sustainable. The former relies on beating the opponent's worst players. The latter demands excellence out of your best players. Those players have delivered.
And for the most part, those players are quite young. Their 10 most-used players are all 28 or younger, and aside from Randle and Brunson (as well as deadline acquisition Josh Hart, who hasn't been around long enough to hit the threshold), they're all 24 or younger. Add all of this together and the Knicks not only have a winner that appears sustainable, but assuming they keep it together, is probably going to get better in the coming years.
Of course, we know that the goal is explicitly not to keep it together, which is why we opened this story with a comparison to the teams that recently traded for stars. That is exactly what the Knicks are currently built to do. New York has 10 first-round picks at its disposal. While many of their veterans have fallen out of the rotation, they still have mid-sized contracts with valuable team options on players like Rose and Evan Fournier to easily match dollars in a trade. When the right deal presents itself, the Knicks will pounce.
But that "right deal" qualifier is critical here. Teams like Minnesota and Atlanta rushed into the first star deals they could find last summer. How's that working out for them? The Knicks were discerning, drawing a line in the sand when it came to the price they were willing to pay for Mitchell. Plenty of people criticized them for that (myself included!), but their faith in the current roster has been rewarded. The Knicks might not have a championship team yet, but they have a very, very good one, and when their inevitable pursuit of that ideal superstar resumes this offseason, they're going to have to ask themselves which players are really worth breaking that team up for.
Take the two most rumored superstars of the past decade to not be traded. Two years ago, the Knicks would've sold the farm for Damian Lillard or Bradley Beal. At this point in their trajectory, it makes absolutely no sense to surrender significant value for a player as old as Lillard or as injury-prone as Beal. At this stage, Brunson may be better than Beal, and assuming the typical age curve holds, he might be better than Lillard before long. Pairing either with Brunson would be an odd choice as well. Mitchell is young enough and athletic enough to grow into a strong defender. That ship has sailed for Beal and Lillard. Quickley and Grimes are inferior players, but far more complementary ones.
The other variable we need to account for here is why the Knicks were so dead-set on limiting the price in a hypothetical Mitchell trade. By all accounts, they wanted to preserve the assets to trade for a second star. Well, here's the rub: if Brunson and Randle are already either All-Star-caliber players or something relatively close, do you really need to trade for two? Would it not make more sense to go all in for the first player if that player is the right player?
Who would that right player even be? There are a number of viable answers. An upgrade on the Barrett slot, given his inconsistency and the general importance of wings, would probably be ideal. Of course, star-caliber wings are rare and even the few who exist probably aren't getting traded any time soon. Maybe the Clippers break up if they have another disappointing postseason. Maybe Jaylen Brown has a wandering eye with free agency looming in 2024. These are possibilities, but remote ones. If the Knicks want this sort of player, they probably have to land the non-star version and hope for development in their infrastructure as Brooklyn has experienced with Mikal Bridges. The Knicks explored O.G. Anunoby at the deadline likely hoping for similar growth.
And then there are the players that transcend fit, those that are so good and so young that teams should be willing to fundamentally reorient themselves should they become available through trade. The Knicks probably don't need another high-usage ball-handler, but if the Kyrie Irving situation combusts in Dallas, they'd drop everything to reunite Brunson with Luka Doncic. If James Harden leaves Philadelphia and (CAA client!) Joel Embiid gets antsy, the Knicks would take the same approach. Who cares if Embiid is an iffy fit with Randle and a bad one with Robinson? It's Joel freaking Embiid.
These players almost never hit the market. When they do, the entire league takes notice. That's especially relevant now, as the teams who traded away such players several years ago begin to mature into buyers on the star trade market. As many assets as the Knicks have accumulated, they simply cannot win a bidding war against Oklahoma City or Houston. Players of that caliber dictate their destination more often than not, but we've seen teams take franchise-altering risks on great enough talent. Toronto won a championship doing it on Kawhi Leonard.
If all of this sounds confusing, well, that's modern roster-building. There aren't easy answers, and for all of the deserved flak Atlanta and Minnesota have gotten for making the wrong deals, Cleveland and Phoenix deserve credit for making deals that, for now, appear to have been the right ones. Trading for stars is an inherently risky proposition.
But it's probably worth noting that Phoenix made the Finals two years ago and Cleveland was already being hailed as perhaps the NBA's best young team. Acquiring and integrating stars, whether they're the right or the wrong ones, becomes significantly easier once you've established a winning foundation.
The Knicks have done that. This team isn't the flash in the pan that 2021 was, nor is it such a fixer-upper that the entire thing needs to eventually be torn down to accommodate two external stars. It's a sustainable winner that should be both proactive and picky as it seeks to make the leap from good to great. As difficult as that jump is, it's much shorter than the ones some of the less successful blockbuster traders in recent memory have taken, and far more realistic than the aspirational leaps the Knicks have tried in the past.
Why luck seems destined to play a uniquely large role in NBA's wide-open title race
The days of a couple of teams being ear-marked for a Finals appearance appear to be over

By Bill Reiter
3 hrs ago•5 min read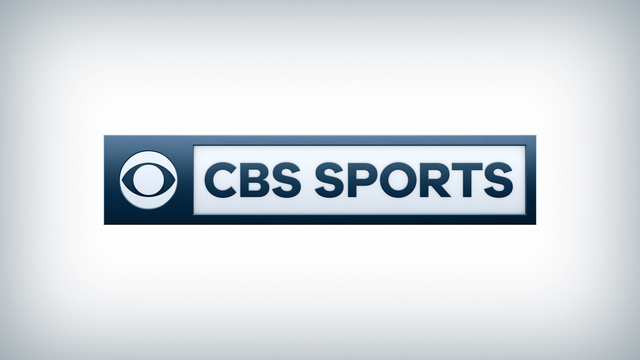 Watch Now:Draymond Green Sounds Off On Dillon Broo…(2:13)
Luck.
Pure, absolute, roll-those-dice luck.
That's the dirty word floating around the NBA, where competitive players, proud general managers and hard-working scouts are bristling against the idea the league can be shaped by anything other than a talent-fueled meritocracy in which the best — the best front offices, the best decision makers, the best players — win because they earned it.
"There's certainly some luck that goes into it, but I like to think there's more skill," one top executive told CBS Sports.
He's not alone. Competitive people like to feel in control of their destinies. It's uncomfortable, if you spend your life chasing greatness, to contemplate the possibility that much of your life's mission might just come down to chance.
But despite the obvious fact that talent, hard work and drive are key, this season is shaping up as one that will be uniquely forged by forces beyond the control of players and front offices who are used to the idea that they, not fate, decide what happens on the court.
Still, in conversations, and with some prodding, there's a begrudging acknowledgment that as parity spreads across the league, the margins between postseason greatness and postseason goodbyes inevitably shrink.
The days of a couple of teams each season being ear-marked for a Finals appearance seem over.
Three teams (the Lakers, Spurs and Warriors) have represented the Western Conference in 20 of the past 24 NBA Finals. One player (LeBron James) alone notched eight straight Finals appearances in the Eastern Conference from 2011-2018.
But despite the Warriors' title run last season, that sense of certainty is changing. There are a lot of reasons for what appears to be the beginning of an era of NBA parity: LeBron has gotten older, and therefore less dangerous. Same — probably, maybe — for the Warriors. Players like Giannis Antetokounmpo, Nikola Jokic, Joel Embiid, Jayson Tatum, Luka Doncic and Ja Morant have emerged.
The NBA's Collective Bargaining Agreement has finally, to a degree, empowered smaller markets to retain stars and build contenders.
And of course the super-team trend means those lucky dice can seem to land one day on the Nets, and the next the Suns or Mavericks.
What does seem certain is that as the basketball bell curve flattens, more unpredictable variables — like good and bad fortune — may shift things significantly
Then, an injury might have cleared the way for one or two teams.
Now, a stroke of good or bad fortune could open the road for many.
Most around the league, in private, would tell you Boston, Milwaukee and Phoenix were a class to themselves. The Warriors were a dangerous question mark, the Lakers similarly if less threateningly so. Some made cases of varying degrees for the Sixers and Cavs in the East and the Nuggets and Grizzlies in the West.
After that, there was real disagreement on what to make of an array of teams: The Clippers, Kings, Mavs, Heat and Knicks.
But each day has seemed to bring some abrupt change in the NBA's view of itself.
Consider a quick look at injured players for teams that were, or are, supposed contenders at some point this season: Zion. Durant. LeBron. For a moment, it seemed a couple days ago before an MRI came back negative, Luka would join that list. AD, Steph, Kawhi and PG earlier this season. Role players like Memphis' Brandon Clarke and Boston's Grant Williams.
And then there are the curious cases of Ja Morant this month, and Kyrie Irving earlier this season — two talented players who, for vastly different reasons, went from keystones of championship containers to consequential question marks.
Morant's situation is troubling for obvious reasons beyond basketball. Irving's status was about a person's choices — and one ugly burst of antisemitism. But in both cases, you can imagine team officials privately bemoaning, Why us?
Durant's slip during Thursday's pregame warmups for his home debut in Phoenix slammed this point home: In the NBA, teams make plans and God laughs.
Maybe Durant will be OK, but Greg Moore of The Arizona Republic reported that Suns officials fear Durant could miss the rest of the regular season. That, to say the least, is not good news. Later reports, confirmed by CBS Sports, said Durant will be reevaluated in two weeks.
The Grizzlies, too, seem cursed. On top of Morant's self-imposed mess, bad news seems to keep on coming. Dillon Brooks got a short suspension. On Thursday, Steven Adams was ruled out for at least four weeks.
And before any of that, just before the Morant mess unfolded, the Grizzlies announced Clarke will miss significant time with an Achilles tear — its own very impactful, if less headline-grabbing, turn of events.
That no-good-very-bad week for Memphis touches on other teams this season that have seen things sour suddenly.
The Pelicans went from top of the Western Conference contenders two months ago to an afterthought. Zion Williamson's continued fragility plays a key role in that.
The Lakers believed, truly, they'd managed the trade deadline with enough aplomb to possibly turn things around. Then, LeBron got hurt.
In February, the Warriors wanted to get into a real groove — including to push back against the team's weird road-game incompetence — only to see Curry go down for the second time this season. He just returned last Sunday after missing 11 games.
Yes, luck has always mattered. Durant and Klay Thompson getting hurt during the 2019 NBA Finals were surely helpful in the Raptors successful (and well-earned) title win. In 2013, the Spurs saw a bad bounce off a rebound end up in Ray Allen's hands — and a series shift. That same Heat team was great its first year, but there are still some who will tell you Rajon Rondo's dislocated shoulder was key in who made that NBA Finals. And so on.
Back when fewer teams had a real chance to make a deep run, an injury here or there — or a ball bouncing one way or another, or a call going this way or not — might just shift the timeline from one team to another. Now it feels like enough teams are in the mix, and enough impactful players keep getting hurt, that luck will play a particularly key component in this year's playoffs.
"I hate it," one executive who's won an NBA championship said. "But I can walk you through so many times little things you can't control mattered. That's even more true today."
Bad defense, poor execution in clutch situations among issues facing Mavericks post-Kyrie Irving trade
The Mavericks have gone 5-7 since trading for Irving

51 mins ago•6 min read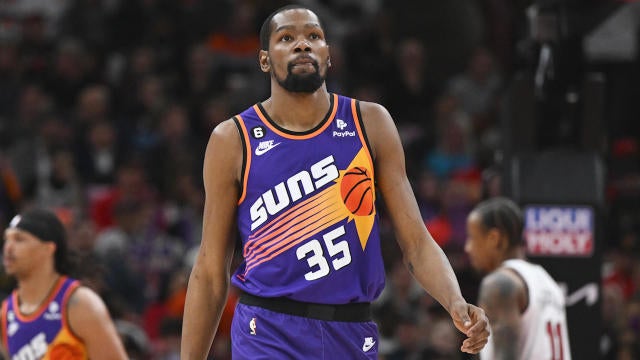 Watch Now:Breaking News: Kevin Durant To Be Re-Eva…(3:38)
One of the biggest moves made at the 2023 NBA trade deadline was the deal in which the Dallas Mavericks acquired polarizing All-Star guard Kyrie Irving from the Brooklyn Nets. Dallas traded away Dorian Finney-Smith, Spencer Dinwiddie, an unprotected 2029 first-round pick and two second-round picks to land the flashy point guard. It was done in an effort to surround franchise cornerstone Luka Doncic with more offensive firepower, as the Mavs front office try to quiet the often-said refrain of "get Luka more help."
Irving certainly fits the bill of someone who can shoulder some of the offensive responsibility alongside Doncic, but the ruling is still out on the ceiling of this dynamic duo. With Irving set to be an unrestricted free agent this summer, the Mavericks also run the risk of losing him for nothing, a big gamble to take on a player whose off-court baggage often overshadows his basketball brilliance.
With one month of this trial run in the books, let's break down some observations from this new-look Mavericks team that has gone just 5-7 since Irving's arrival.
Irving-Doncic offensive duo has been statistically great
The Mavericks' offense has done exactly what you would expect from a team featuring Doncic and Irving: score a lot of points. Since trading for Irving, the Mavericks have had the fifth-best offense in the league, with a 120.0 offensive rating. Bringing in Irving was meant to alleviate some of the offensive workload for Doncic when the two shared the floor, and give the Mavericks someone who could captain the ship when the Slovenian guard sat on the bench. By those two accounts, it's worked great for Dallas, and you can point to the game where Doncic and Irving both put up 40+ points in a win over the Philadelphia 76ers as evidence. The pair became the first Mavericks duo to each score at least 40 points in a game in franchise history, and it was the most extreme version of what this tandem can do on the floor together.
The other piece of the puzzle that has come together quite nicely is the minutes Irving plays when Doncic is sitting. This has been an area where the Mavericks have struggled since Doncic entered the league, and this season has been the worst in that regard. When Doncic sits, the Mavericks score 8.1 fewer points than when he's on the court, not surprising given how vital he is to everything this team does on offense. Still, Irving's presence is an upgrade over Spencer Dinwiddie who shouldered that same responsibility before being traded to Brooklyn.
| LINEUP | OFFENSIVE RATING | DEFENSIVE RATING | NET RATING |
| --- | --- | --- | --- |
| Kyrie + Luka | 124.2 | 114.9 | +9.3 |
| Kyrie, no Luka | 125.7 | 117.7 | +8.0 |
| Luka, no Kyrie | 119.8 | 116.8 | +3.0 |
It's a small sample size, just 11 games and only nine games where both Irving and Doncic have played. But the Mavericks haven't had a great deal of difficulty putting up points when those two share the floor. That 124.2 offensive rating would rank first in the NBA this season by far, but unfortunately for the Mavericks, offense isn't the only part of the game.
The defense has been predictably bad
When you trade your best perimeter defender without immediately addressing the giant hole on that end of the floor, chances are your defense isn't going to get better. But Dallas seems to be betting on outscoring their opponents on most nights without worrying about the defense, which, hasn't given them great results since the Irving trade. Yes, the Mavericks are scoring a bunch of points, but they're also surrendering a ton, too. It's resulted in just a 5-7 record, and with no one waiting in the wings to immediately upgrade the defense for the rest of the season, it will likely stay this way, once again proving the age-old adage: defense wins championships.
Dallas allows opponents to shoot 51.5% from the field, a league-worst since the Irving trade. While they weren't exactly locking anyone down on that end of the floor prior to the deal, allowing 48% from the field in the pre-Irving era, it's never a good sign when you make a franchise-altering trade and get worse, by a significant margin, on one end of the floor.
The craziest aspect about this suddenly new identity to just try and outscore teams is after nearly a full season of criticizing the players for their lack of defensive effort, Mavericks head coach Jason Kidd has appeared to completely surrender to his team's inability to stop anyone. When asked if he was concerned about the team's defense, Kidd responded like someone who was just recently brainwashed to align with the team's new game plan.
"No," Kidd said. "We're here to outscore people. People come to see the points, not 80-80. We're here to score. This is the new NBA. Interior defense, we'll figure it out."
While there may be a hint of sarcasm in Kidd's response, the Mavericks have certainly built their roster to score points and worry about defense later. However, defense has been a problem for the Mavericks all season long, and trading away Dorian Finney-Smith only exacerbated that issue. Dallas allows the third-most points in the paint (58.5) since the trade, and they're the second-worst rebounding team in the league during that span, losing the battle on the boards by a 6.2 margin.
Without Finney-Smith to mask the weaknesses of Dallas' most vulnerable perimeter defenders, like Doncic, the Mavericks are getting exploited on that end of the floor every night. The return of Maxi Kleber was supposed to ignite the team's defense, and while Kleber has helped some in that regard, he's not the antidote for all of Dallas' defensive woes.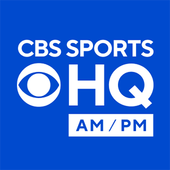 CBS Sports HQ Newsletter
We bring sports news that matters to your inbox, to help you stay informed and get a winning edge.
I agree to receive the "CBS Sports HQ Newsletter" and marketing communications, updates, special offers (including partner offers), and other information from CBS Sports and the Paramount family of companies.
By pressing sign up, I confirm that I have read and agree to the Terms of Use and acknowledge Paramount's Privacy Policy.
Struggling to pull out wins down the stretch
There are a lot of factors at play here that have made Dallas one of the worst clutch teams since the Irving trade. It's partially a direct result of poor defense, but also could be chalked up to some natural growing pains as Doncic and Irving feel each other out. Since the deal, Dallas has played the second-most clutch games in the league and has a 3-6 record to show for it. In some instances, the Mavericks have struggled to get quality looks down the stretch, and on one occasion, failed to even get off a shot attempt in what could've tied the game in the closing seconds to send it to overtime in a loss to the Minnesota Timberwolves. In that case, credit should be given to the Wolves for playing such stout defense in a high-pressure situation, forcing Doncic and Irving to play hot potato with the ball.
On another occasion, Doncic forced up a stepback 3-pointer against the Kings, despite Irving managing to create some space between his defender which would've given him a better look: